The Art Blakey Centennial Edition stick.
One of hard Bop's greatest exponents, master of the
smokin' press roll of death. Decades of the leading the great
Jazz Messenger bands have earned him his place in history.
The Art Blakey Centennial Edition has been reproduced exactly
from his 60's model stick - the longer taper and triangle tip
make this stick ideal for almost any application.

Every Bopworks stick is weighed in grams instead of ounces.
This ensures proper matching in every pair you buy.
Please note: we do not pitch pair our sticks.
For more information on this, please read this link in our blog.
https://www.bopworks.net/blog/to-pitch-or-not-to-pitch/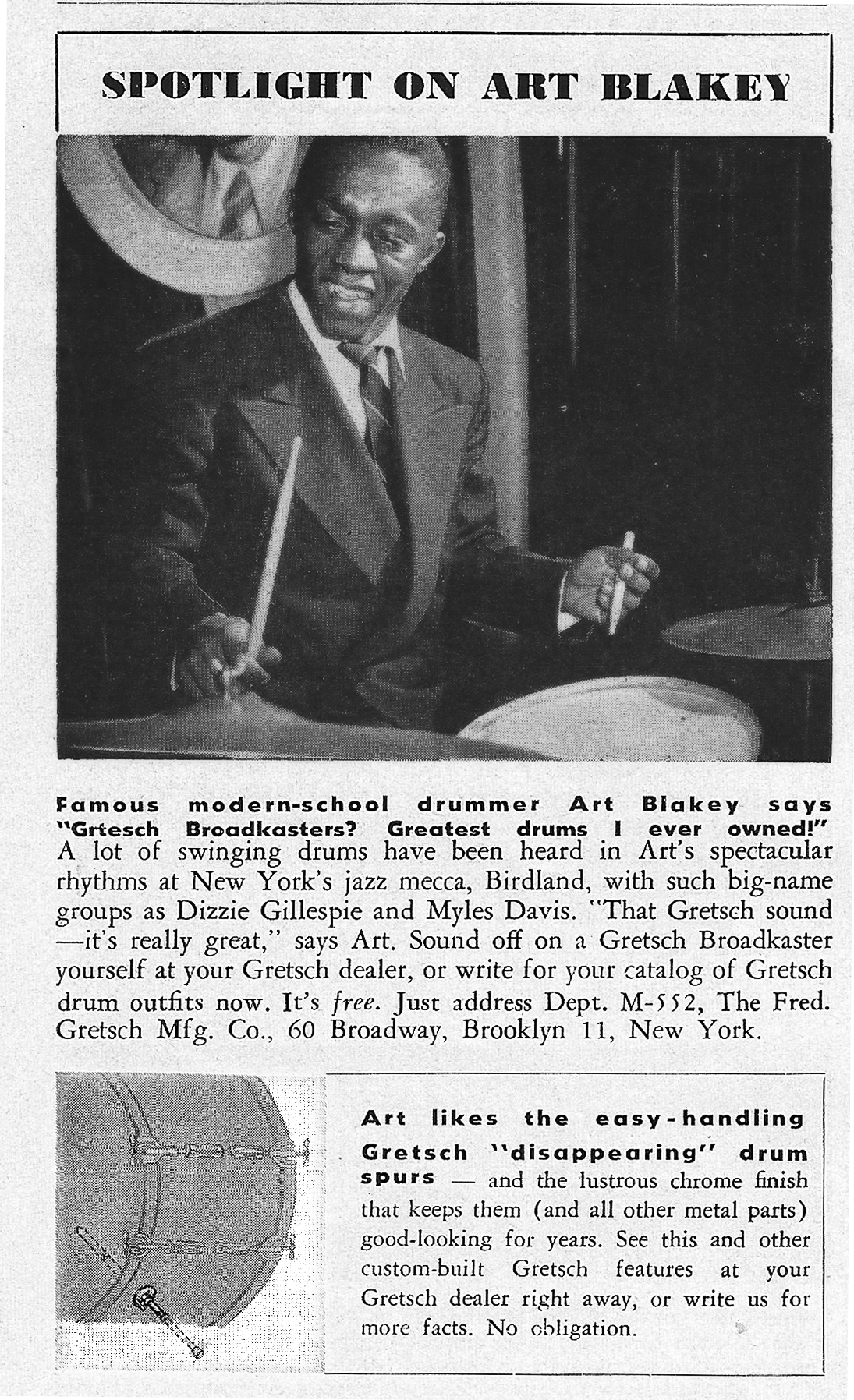 Save
Save
19 Reviews
I think these will be the sticks I "stick" with for awhile. They feel great and they have some power behind them. Drums are solid tones and cymbals are dark and lovely. I will definitely buy a few more pairs. Thanks Bopworks!


At first glance the Art Blakey stick can be intimidating with its large triangular bead. Fortunately, playing is believing. The rebound off cymbals is remarkable, even on thinner, lighter cymbals! The bead isn't overpowering but very articulate, making even thinner cymbals, with a lot of wash, have a decent attack or stick sound. Wonderful big band or quintet stick. You don't have to "work" this 8D, it works for you. It's milled very finely, has a beautiful finish and feels great!
Can't say enough about this one. Another of my favorites!

Surprisingly beautiful sounding!!!

By the looks of the triangular bead, one would think that these sticks produced a harsh attack on the ride cymbal. Not at all! Instead the stick produces a bright clean attack while giving the player perfect balance in the hand. This is a great big band and general purpose stick!

Versatile, durable, comfortable!

I think these Blakey 8Ds are the stick I've been waiting for! They are full enough in the grip to not feel like twigs, but the long taper keeps them fairly light and nicely balanced. The big triangle tip sounds clear and articulate on cymbals and produces a big, full sound on drums - the perfect balance between a lighter "jazz" stick and something more widely applicable. They are extremely well made, solid and durable. I've had one pair on 4 gigs and a number of practice sessions, and they've not chipped or worn down, and I'm playing more than jazz with them. The only downside is the price.

These sticks felt a little foreign to my hands at first with me being more used to butt heavy sticks... But after you adjust to it, you get amazing tone out of the drums and cymbals. I think partly because of the large head. Also with the more balanced weight, the dynamic range is pretty wide with the louds being extremely loud and softs being extremely soft. Weight is pretty evenly distributed with the top being a little weightier (if thats a word) but it still lets you swing you butt off! :)

I´m amazed for the quality of these sticks and the rest of the stock of Bopworks, great material, great sound and flexibility.

I bought these as a gift for my drummer and he loved them

At 55 yrs. old I've been playing for only a year. Can't tell you why I like them so much except to say they feel great overall. I like the largest triangle tip I've seen, the 16" length and the thin/med thin diameter with a graceful taper.

There's enough weight to play louder stuff and it's easy to choke up a little if you want to ease up a bit.

I have maybe 25 differen't pairs of sticks including 3 other Bopworks models but these are my favorites to date. Great service too!

After a long wait, the promised Blakey sticks have arrived.

They feel absolutely great-good balance and nice taper that lets the cymabl tone stand out.

I personally wouldn't use these on a super quiet gig, but for anything else, they'd work great.