Pablo Prieto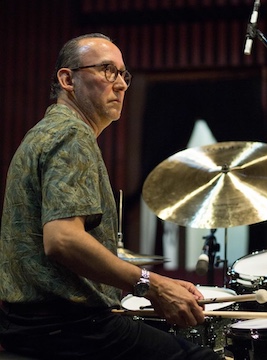 (be sure to check out the clips below...)

Pablo Prieto, was born in Mexico City, Mexico. At an early age he showed great interest in music and drums. He started playing drumset in concerts when he was 14 years old with his own Jazz combo. He studied music theory at Universidad Nacional Autónoma de México.

During the early 80s, he was busy at recording studios, TV shows and touring with pop singers all over America.
He was invited to play at the 1985 Montreal Jazz Festival and then played at the Quebec Summer Festival.
Pablo Prieto is listed in Gabriel Pareyón's music dictionary of México: "Self-taught contemporary drummer, one of the brightest jazz drummers in the Jazz scene of Mexico".

Pablo Prieto productions include:

Body and Soul (Audio CD, 2007).
Summer Song (Audio CD, 2009).
Dave Brubeck: A Celebration! (Audio Video DVD, 2013).
Triology with Jazz legend Eddie Gomez (Audio CD, 2017).

Career and touring highlights:

Ken Karsh (Pittsburg, USA).
Louise Phelan (Ireland).
Cindy Scott (New Orleans, USA).
Tineke Postma (Netherlands).
Hanne Tvetter (Oslo, Norway).
Eddie Gomez (New York, USA).

Currently Pablo is endorsed by Canopus Drums, Istanbul Agop. and Bopworks Drumsticks.
"Cottontail" brush solo:
"Sounds of the Loop" drum solo:
"Golden Horn" drum solo"