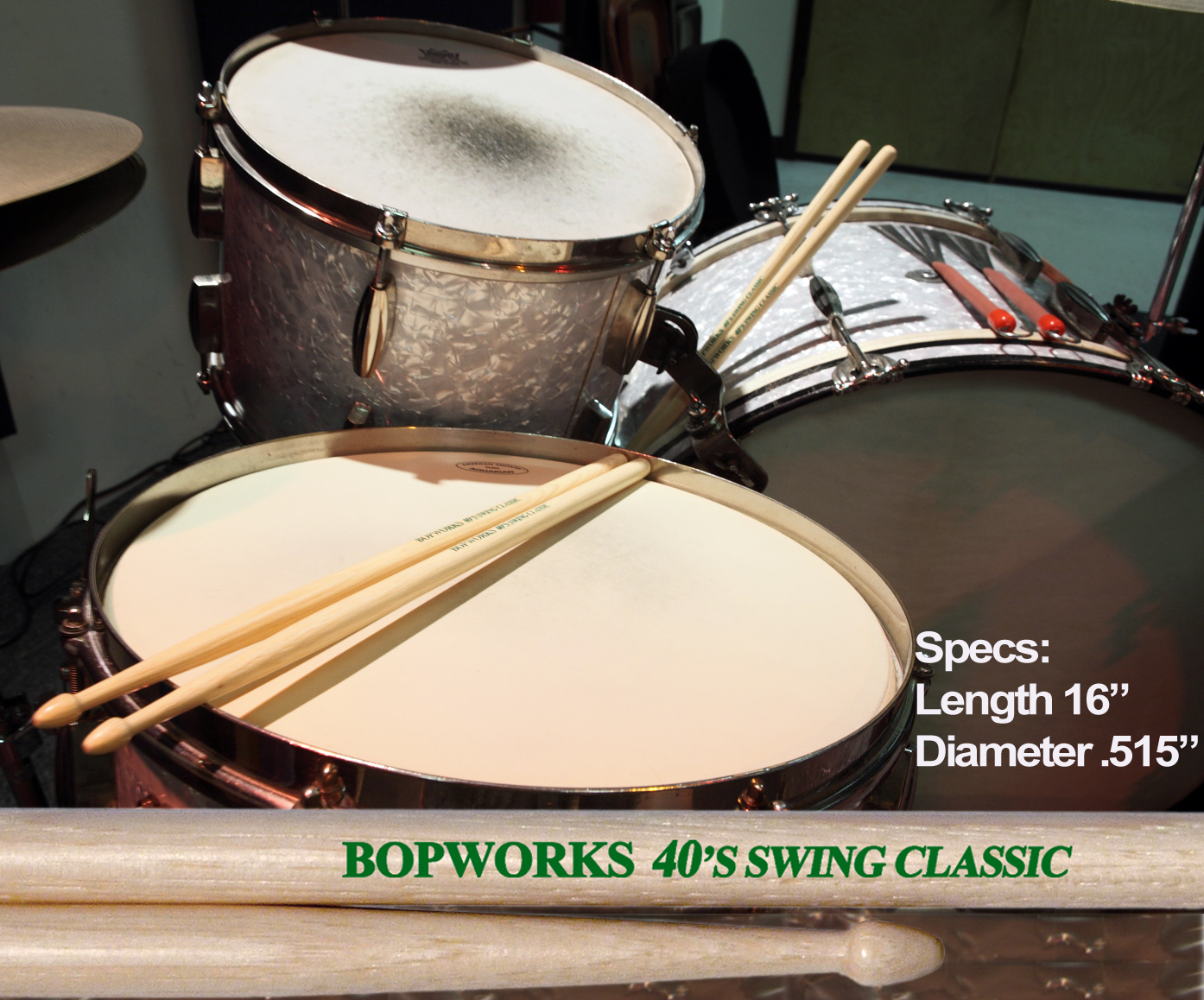 Bopworks 40's Swing Classic
Faithfully recreated from the exact model 40's stick
played by one of Swing Music's greatest drummers*.
The Swing Classic captures the sound of the 40's
with its the traditional triangle tip and taper.
Versatile, perfect for the Jazz trio up to big band.
Relive the 40's with sticks that helped define the music.

Every Bopworks stick is weighed in grams instead of ounces. This ensures proper matching in every pair you buy.
*The initals "GK" might give a you a hint.
9 Reviews
May become my new favorite!

Very nice light stick for jazz including big band, also rock if you're not a heavy hitter. Acorn tip gives great cymbal and bell-of-cymbal sounds. Similar to VF Tommy Igoe model but a touch lighter and better cymbal sounds. Finish is beautiful!

The 40s Swing Classic model sticks are an instant favorite and my new go-to stick for acoustic jazz and eclectic music styles that require a varied touch-- especially lower-volume situations where I want a really clean, crisp, lighter touch on the cymbals. Since I no longer play heavy/loud music, I don't need big logs anymore anyway. A notable characteristic is the silky finish or varnish, not too slick or slippery, but a very smooth/perfectly sanded surface feel to grab onto without much slippage.

I was using the Shelly Manne model for playing in low volume settings but since that model was discontinued, I thought I would give the 40's Swing Classic a try. To my surprise, I like them even better than the Shelly's. They are very light like the Shellys, but the extra length gives them a better feel/balance, as well as greater ease getting around the kit. They sound great on cymbals. I will definitely be going back for more. Also, the service at Bopworks is superb!

Versatile and Great Sounding

Able to withstand abuse from playing heavier styles while still feeling light enough for more delicate pieces. Best of all is the tone that I'm able to pull out of my drums and cymbals with these sticks, they sound amazing!

I'm a working musician in the panhandle of Florida. I love the weight and length of this stick. I broke the pair I had previously though, and Stream Lee rare for me to break a stick. However, the balance and weight is stick feels definitely makes up for that. my favorite stick I've found to date

What I've been looking for...

I like the classic 40's for their length (long) and width (small). I play hard rock to brushes, and these lightweight sticks allow me to control my dynamics over a broader range. The longer sticks make it easy to go around the toms while maintaining balance for double bass work. Sticks are a little slippery, but nothing a little sandpaper cannot take care of. I am trying to find a historical drummer who played with 17" sticks in the hope that you would make a pair :) Very pleased, with product & customer service !

As a Bopworks artist, I had not played the Classic '40's up until now. I'm a West Coast user for most of my Jazz playing and an Art Blakey user for Big Band playing. When I tried the '40's last week, the response off the cymbals was more amazing than I had imagined!
These sticks are a beautiful gap filler between the West Coast and the Art Blakey Sticks. At 16" long and with that magical taper, they provide a rebound beyond most other sticks on the market, which makes you sound cleaner and faster than you had before.
The Classic '40's will be in my stick bag from now on along with the West Coast and Art Blakey sticks. They ARE that good!

Great product, exceptional customer service!

This swing model is the best pair or sticks that i have used in 20 years, soon it will order two more pairs,-and i hope also to try the new Art Blakey model.
Thank you Bopworks!